Ideally, the results of the ONE idea itself contribute to sustainability in multiple ways both for the project and for the partners' organisations.
A GREEN PROJECT …
Actual project work – i.e., virtual collaboration – entails manifold opportunities to make project work greener. This includes
saving energy by keeping data volumes as small as possible through keeping only the latest document versions, avoiding video streaming whenever possible and using ecological search engines such as Ecosia;
having an even lesser environmental impact with only ONE face-to-face meeting by specifying a small number of participants per partner organisation;
using an agile project management approach that includes efficient and resource-saving communication;
defining regulations for an environmentally conscious implementation of Multiplier Events with regard to the specifications for catering/menus, papers and energy consumption as well as the format of the event and travel guidelines
ONE Learning
It is not easy to turn off your camera when you meet – because you also meet to see each other. One option is that everyone except the presenter turns their camera off during the presentation and turns it back on for the ensuing discussion.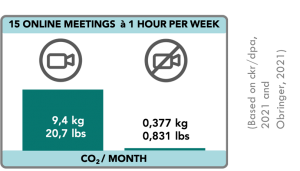 … WITH GREEN PARTNER ORGANISATIONS
Each organisation has different structural and organisational possibilities to implement and conduct sustainability and environmental measures. They can include supporting local structures by buying from local businesses, reducing printouts, reducing travel or installing hot/cold aisles for heating or cooling offices.
ONE Learning
Going back to our organisations to find out what measures are already implemented showed quite some space for improvement and served as a catalyst to start thinking about possible future sustainability activities.
EXTEND THE LIFETIME OF YOUR PRODUCTS
The ONE approach requires that project outputs continue to be available after the project ends and that they are made in such a way that they will actually be used in the long term by a wide a range of stakeholders.
This includes
sustainable results in the sense that they make sense for your target group and are actually being used. To ensure this, include your target group in creating your results;
making results available on your project website and making sure the website stays online for at least a few years after the project, but also distributing the results on each partner's website, other platforms (e.g., EPALE) and relevant fora (e.g., EDEN), to ensure that your target groups learn about them and learns to use them;
using the project's results in your own organisation and making your colleagues relevant promoters; and
creating your results in a way that they can be commented on (in a web version), recycled and reused and thus live longer in multiple, supplemented, amended, extended, mixed and mashed up forms. You can achieve this by applying a suitable CC license and by making all partners adhere to this by signing an IPR Agreement.
Using an online survey to have all partners define their individual sustainability measures in a smart way might be helpful as a starting point. From there, continuously addressing the topic in regular meetings helps to not lose sight of it. Mid-term of the project, probably as part of the ONE meeting, is a good moment to creatively explore further paths, critically reflect your work and outputs made so far as well as to check and eventually adapt your sustainability approaches.
ONE Learning
Sustainability in the ONE approach implies making results adaptable and encouraging further development. That is why we have decided to provide all ►ONE resources in adaptable source format as part of this Guide.